'Amazing Thailand'. True. It always amazes you!
The beaches are sooo beautiful. Koh Phi Phi Lei, Koh Phi Phi Don to name a few.
Crystal clear waters. Aaahh..


Not only that. Phang Nga Bay was also the location for the James Bond movie, Tomorrow Never Dies. But the setting is Hanoi, Vietnam.
To add to that, Panyee Island was one of the locations for another James Bond movie, The Man with the Golden Gun. And of course, the famous Nail Island or now popularly known as James Bond Island.
I have to boast my hubby's shot of James Bond Island. Nice PP! During our day trip here, it was overcast and it's hard to take good photos.
This is the Monkey Island.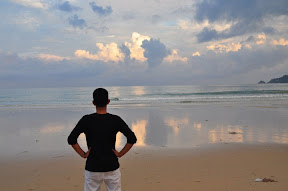 Boo watching the sunrise at Patong Beach.

Thai food is delish! One can't leave Thailand without trying fried chicken in pandan leaves and phad Thai. Test your taste buds with green curry tom yum and their authentic tom yum.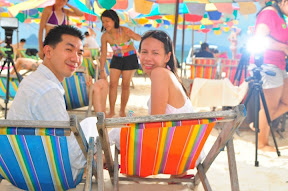 This is me & boo at Khai Island. Photo taken by our friend.

I took this photo at Panyee Island. This is a Malay Village.
-Crazycatsville is using BlogPress from my iPad