Totally.No.Meat.Today.
For everybody's information, Philippines also joins the global movement and call it 'Luntiang Lunes'.
Here's the sauteed crunchy veggies.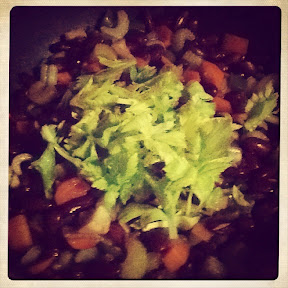 The veggies mixed with red beans plus celery for garnish.
Here's the recipe:
1/2 cup low sodium vegetable broth
1 large onion, chopped
2 cloves garlic, crushed
4 carrots, sliced
2 bell peppers, chopped
4 celery stalks, chopped
2 cans red kidney beans
1 tablespoon Cajun spice seasoning
1 tablespoon hot sauce of your choice
1 tablespoons fresh parsley, chopped
2 cups brown rice, cooked according to package instructions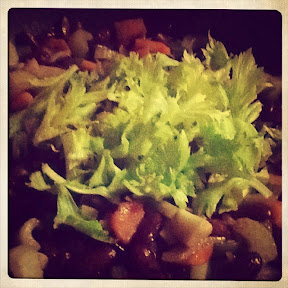 I survived! :) Visit www.meatlessmonday.com for more info.
- Crazycatsville is using BlogPress from my iPad